A Soldier Finds Support at The Steadman Clinic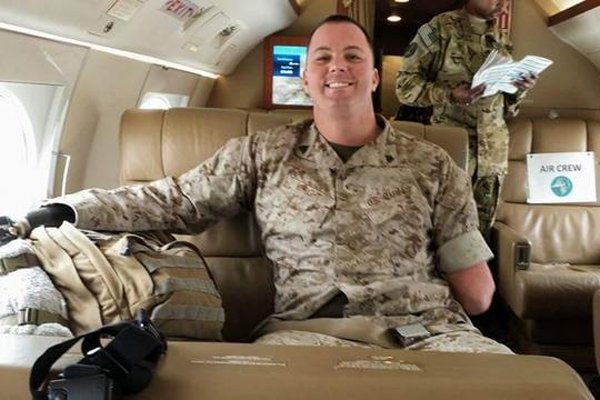 Eddie Wright, a 43-year old military veteran, had grown to expect living with pain as his reality. Eddie served in the Marine Corps, during which time he suffered a major loss when a grenade exploded during an attack in Fallujah, Iraq in 2004. Eddie lost both of his hands in combat, and began a lengthy, painful journey to recovery.
"I've always been a really positive person," Eddie explained, "I try to be mindful and work through the pain. I'm not afraid of it. I find that a positive attitude can help me through any situation." But as his shoulder pain continued to increase over time, Eddie found it challenging to remain positive about the pain he experienced each day. Although his previous experiences with hospitals and surgeries during his recovery left him apprehensive—he feared a failed surgery—he began to consider his options.
"A friend of mine was familiar with The Steadman Clinic," said Eddie. "His wife had a successful surgery on her shoulder with Dr. Matt Provencher after many failed surgeries at other facilities. They said The Steadman Clinic was the best."
Eddie learned that the Clinic also had a relationship with the Vail Veterans Program, a local non-profit that has supported military veterans and their families through a variety of programs for fifteen years. When Eddie learned of this connection—and he had his friend's referral to The Steadman Clinic—he knew it was time to reconsider surgery to help his shoulder.
"They took care of everything," Eddie said, of the Vail Veterans Program. "We stayed at the amazing Sonnenalp Hotel, free of charge. I would have been happy with a Motel 6!" Eddie also reflected on being a patient at The Steadman Clinic. "Everyone was so nice," he said. "From the front office staff to the team that worked with me while I was there, I was treated like a person, not a problem. You can tell everyone takes pride in their jobs." Eddie knew that the unique combination of the clinic in Vail and its relationship with the Vail Veterans Program made his experience so unique. "I want to thank Cheryl Jensen, in particular, for founding the Vail Veterans Program. My family is so grateful."
Eddie wants to encourage other veterans to step out of their comfort zones and look more closely at Vail, where they can be treated by an elite team at The Steadman Clinic—including Dr. Provencher, a Captain who served in the U.S. Navy and continues his duties as a Reservist—and receive the support of the Vail Veterans Program. "A lot of guys are afraid to go in and ask for help, but kicking down the road only hurts you more," he said, noting that Dr. Provencher worked on him during surgery for twice as long as he anticipated, as the damage was more extensive than he previously thought. "He didn't rush me or the procedure. He did it right the first time and did what he needed to do so that I could have the best quality of life moving forward."
After being treated at The Steadman Clinic, Eddie returned to Texas, where he lives with his wife Alder. He said that his "experience with Dr. Provencher and everyone at The Steadman Clinic has restored my faith in the medical system."
Eddie is currently retired, but he consults and advocates for the importance of mindfulness to various groups, including young people in detention centers. "I look at my situation as an advantage," he said. "Because I don't have my hands, I gain attention, which provides a platform to speak on what's important in life." And what's important in life? "Be present. Be grateful for what you have. You have much more than you realize."
Share this Post: