Annual Life-After-Joint-Replacement Ski Day With The Steadman Clinic Surgeons is Huge Success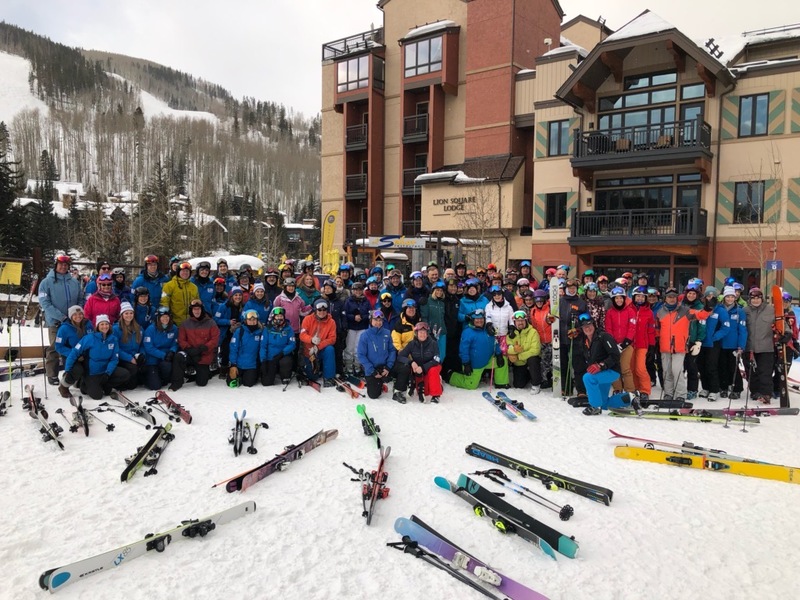 Patients Celebrate Pain-Free Life After Total Joint Replacement
Three orthopaedic surgeons from The Steadman Clinic recently joined more than 100 of their patients at the base of Vail's Mountain. The occasion was the 2nd Annual Life-After-Joint-Replacement Ski Event – a celebration of getting back to everyday activities following joint replacement.
Dr. Raymond Kim, nationally recognized hip and knee surgeon of The Steadman Clinic started the event last year as a way to celebrate patients' health after undergoing total joint replacement.
"Last year we had 35 participants and this year more than 100," said Dr. Kim. "We had a lot of local patients, and people flew in from out of state as well, just for this event. I'm so excited for them. They're so happy to be back on the mountain."
Pam Rahn is one of Dr. Kim's patients who is happy to be back on the slopes. He performed total joint replacement on both of her knees.
"Prior to my surgeries, the pain was so bad I couldn't even ride a bike," said Rahn. "Here I am skiing again, and loving life and doing lots of things I haven't done in years. Life after total joint replacement is great." Mindy Brill, also a patient of Dr. Kim, is a ski instructor. She had bi-lateral knee replacement surgery about 18 months ago.
"I taught students 92 days last winter after having both knees replaced," said Brill. "I also work on the mountain in the summer, hiking with resort guests. I have my life back on track. I get to do what I love and work my jobs that I love. My life after two total knee replacements is great."
In addition to Dr. Kim, two more surgeons from The Steadman Clinic joined in the celebration.
"I have some unbelievable partners at The Steadman Clinic," said Dr. Kim. "Two of those partners, Dr. Provencher and Dr. Clanton helped put all these people back together. Whether it's replacing ankles, shoulders, or knees it's really fun to collaborate with each other to get people back to their normal lifestyles."
Dr. Matthew Provencher is one of the nation's top orthopaedic sports surgeons specializing in knee and shoulder injuries at The Steadman Clinic.
"I wanted to join the event this year to celebrate our patients," said Dr. Provencher. "Patients who have arthritis have a lot of pain, they have a lot of limitations in their daily life. Having the ability to take that pain away is truly our passion. There is scientifically sound evidence that we can help our patients live a longer and better life after joint replacement."
Lynn Siefert is Dr. Provencher's patient. She and her husband, Mark, have been married 55 years. Between them, the couple has had five total joint replacements at The Steadman Clinic. The most recent was Lynn's shoulder replacement last August.
"My shoulder is fabulous," said Lynn Siefert. "My husband, Mark, was there for me and I've been there for his surgeries. We feel very blessed that we can come to The Steadman Clinic and have the confidence that we're getting state of the art treatment, from pre-surgery through post-surgery. Why would we go somewhere else?"
Dr. Thomas Clanton is an internationally recognized foot and ankle surgeon at The Steadman Clinic. His patients were also on the slopes to celebrate.
"We have patients here that have had multiple replacement procedures," said Dr. Clanton. "The joy they experienced today was uplifting and inspiring. Helping people stay active and continue to live healthy lifestyles is what drives us. These patients are proof that joint replacement can make that possible."
"This crowd is why we chose to practice orthopaedics," said Dr. Kim. "We want to help people get back to being active and enjoying things like skiing and snowboarding and hiking. We'll keep doing this ski day as long as the patients are interested."
At the end of the day, knee replacement patient Greg Jones summed up the thoughts of many of the event participants.
"I've lived in Vail for 40 years," said Jones. "I've had a lot of memorable ski days. But with today's crowd and the camaraderie, this is one of the most memorable. It was a great day with great people. Thank you to the surgeons and The Steadman Clinic for making it happen."
Share this Post: