Dan Drawbaugh – CEO of The Steadman Clinic and Steadman Philippon Research Institute – Named Colorado ORBIE Leadership Award Winner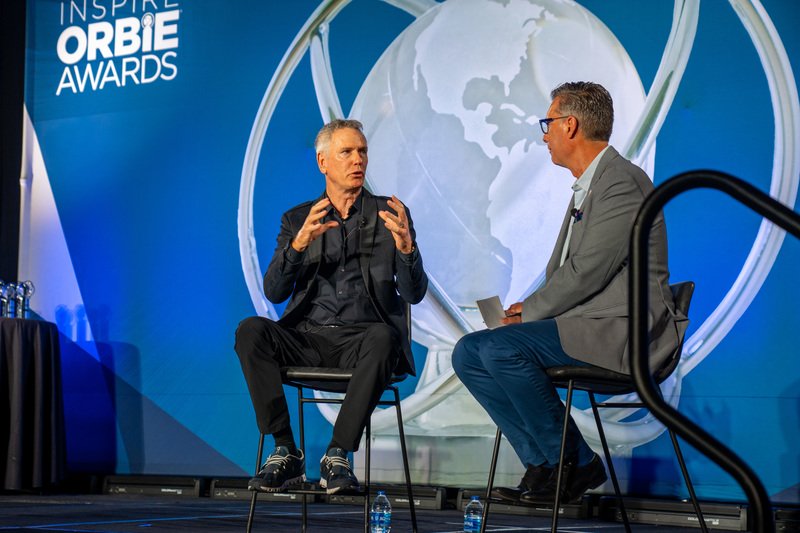 Dan Drawbaugh, CEO of The Steadman Clinic & SPRI along with James Capps, Chair of ColoradoCIO at the 2023 Colorado ORBIE Awards.
Award recognizes executive excellence in technology, leadership and innovation
VAIL, Colo. – At The Steadman Clinic and Steadman Philippon Research Institute (SPRI), it's not only the world-class surgeons, scientists and researchers that bring home awards and accolades.
Dan Drawbaugh, who has served as CEO of The Steadman Clinic and SPRI since 2015, was named the recipient of the 2023 Colorado ORBIE Leadership Award presented by ColoradoCIO at its awards ceremony in Denver on July 28. For more than 20 years, the CIO ORBIE Awards have recognized technology executives for leadership, innovation and excellence in this rapidly growing, CIO-led national professional association. The Leadership Award serves as a Lifetime Achievement Award, and reflects Drawbaugh's career from CIO to CEO.
"I am extremely honored to receive this ORBIE Award for Leadership in our industry," said Drawbaugh, whose career included years of work and leadership in the information technology world. "None of our accomplishments would be possible without the people who work in support of a shared vision. Building great teams like the one we have at The Steadman Clinic and SPRI has been essential for me and is one of the things I'm most proud of in my career."
Prior to beginning his tenure at The Steadman Clinic and SPRI in Vail as CEO, Drawbaugh spent over three decades at the University of Pittsburgh Medical Center (UPMC) as the Chief Information Officer (CIO) and other roles, overseeing information and biomedical technologies. The transition from CIO to CEO was seamless for Drawbaugh, who was ready to take this next step in his executive management career in the healthcare industry.
"For IT leaders who might be looking to move into a CEO track, not only is this possible, but I also think it's a logical step as businesses become more and more dependent on innovation and technology," said Drawbaugh. "IT used to feel like more of a separate department or a behind-the-scenes part of organizations. In today's landscape, information technology is front and center. The transition from CIO to CEO is only going to become even more common as businesses evolve."
Drawbaugh's long list of accomplishments at UPMC translated well into what the progressive and forward-thinking leadership teams at The Steadman Clinic and SPRI were seeking in a new CEO eight years ago.
During his time as CIO, UPMC was consistently regarded as one of the most technically advanced healthcare systems in the nation, including recognition in publications such as Information Week, Health Imaging and IT Magazine, Hospital & Health Networks Most Wired, among others. Drawbaugh was recognized four times in CIO Magazine as a top-100 CIO, earned "Chief of the Year" from InformationWeek and received the InformationWeek: Global CIO 50 honor of being recognized as a top CIO in healthcare and as one of the most innovative business technology executives of any field. While he was at UPMC, the organization became a nationally-renowned medical center with assets of $14 billion and 62,000 employees.
During his tenure in Vail, Drawbaugh has overseen tremendous growth for both The Steadman Clinic and SPRI. Both organizations have expanded into new markets, including a Summit County expansion with a new clinic in Frisco and the Dillon Surgery Center as well as Aspen and the Roaring Fork Valley—the latest move includes the development and opening of the most state-of-the-art clinic and ambulatory surgery center in the region in 2022, located in Basalt.
At SPRI, a major growth focus has been pursuing federal funding. The organization did not have any federal awards before Drawbaugh arrived in 2015. SPRI is currently active on five federally-funded clinical trials from the National Institutes of Health (NIH) and Department of Defense (DoD), as well as the recipient of three other NIH awards.
Drawbaugh was raised in Fayetteville, Pa., in a small rural area between Chambersburg and Gettysburg, Pa. His interest in pursuing a career in healthcare management grew from his mother's cancer diagnosis and his father's profession as an engineer.
"I was motivated early in my life with healthcare," recalled Drawbaugh. "As a six-year-old, I saw my mother debilitated with breast cancer. I believe her health issues and my father's daily work in engineering were the catalysts for my interest in medicine and technology. The motivation was derived from seeing my mother's life change through a radical mastectomy and all the treatment she underwent during that time."
Drawbaugh holds a bachelor's degree in biomedical and electrical engineering technology from Temple University and an MBA from Duquesne University. He has served on a number of boards, including the Oracle, IBM and Verizon Wireless advisory boards. He is a current member of the Duquesne University Board of Directors.
For further information, contact Lynda Sampson, vice president of external affairs at The Steadman Clinic and SPRI (
lsampson@sprivail.org
).
Share this Post: