Drawbaugh All In To Help Healthcare Innovators in "Nicer Shark Tank"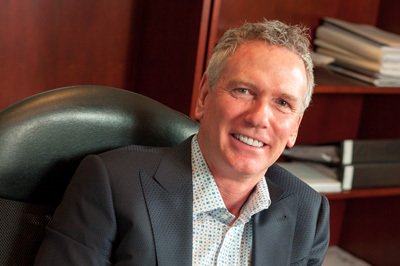 "I'm out." Those two words dash dreams on every episode of the ABC hit Shark Tank. The tagline is part of the drama, part of the game. Now imagine if, instead of dropping an entrepreneur because of a marginally underwhelming pitch, the judges said, "I'm in," and helped the show's contestants hone their presentations.
Dan Drawbaugh, CEO of The Steadman Clinic and Steadman Philippon Research Institute (SPRI), recently participated in that type of competition, one he called "a nicer Shark Tank."
Last month, Drawbaugh judged the second annual Medical Capital Innovation Competition (MCIC), which awards $100,000 in prizes to innovators using big data, artificial intelligence, or other disruptive technologies to improve healthcare. BioEnterprise, the Global Center for Health Innovation, Ohio's Cuyahoga County, and Healthcare Information and Management Systems Society (HIMMS) sponsor the competition, which is open to professional and collegiate teams worldwide. The 2017 grand prizewinner, an online healthcare communications company called MedRespond, hails from Pittsburgh, the city where Drawbaugh spent more than 30 years. This year's MCIC drew entries from 33 states and 24 countries.
The contest spans two days. On the first day, contestants have the chance to sit down with mentors to go over, and receive feedback on, their presentations. Local media, including the Cleveland Plain Dealer, covered this portion of the competition and made it seem … decidedly Shark Tank. "It was," said Drawbaugh. "There were judges who'd been part of private equity firms, venture firms, and they were direct." Contestants had a chance to change their presentations before judging the following day, and the time the mentors invested in them showed.
Drawbaugh's commitment to mentorship is one reason he was asked to serve as a judge by Matthew Miller, senior venture partner – healthcare at JumpStart, where he leads the firm's health tech focus.
Drawbaugh didn't need to be in Cleveland for the mentoring day but came anyway. "I wasn't surprised," said Miller. "That's Dan." Drawbaugh noted education is ingrained in SPRI's mission. "We want to be a leader in science, in research, in medicine, and in education."
Drawbaugh and Miller have known each other since Miller was a healthcare consultant and Drawbaugh was at Pittsburgh's Shadyside Hospital. Miller said his friend's entrepreneurial spirit is another reason he wanted him to be part of the competition.
"We're measured in decades," said Miller, who created the MCIC in 2016 because he saw an opportunity to showcase the Cleveland health tech ecosystem.
"I knew Dan would be a great judge. He is as experienced and knowledgeable about the business of healthcare as anyone … and Dan has been solving technology problems and innovating for all the years I've known him." Miller also noted Drawbaugh has been involved with numerous startups.
The contestants "all had potential," Drawbaugh said. He was impressed that teams were led by individuals with solid management experience and were committed to tackling some of today's most pressing challenges. VastBiome, the winner of the $50,000 first prize, deploys artificial intelligence to identify how the microbiome impacts diseases.
Drawbaugh awarded a collaboration prize to Particle Health, a New York City-based startup that's using blockchain technology to address the issue of privacy and medical research consent, an ongoing concern. Particle Health will undertake a pilot project at SPRI and, in the process, gain access to SPRI's domain knowledge. Normally finding that access would be a huge hurdle for a startup.
Drawbaugh said he came back to Vail "refreshed and reenergized" and thinking about how SPRI could collaborate more. "In every business, but especially in health care, collaborations carry the day," Drawbaugh said, "Thinking that one organization can do it all is not practical anymore." Miller agreed, saying, "A number of companies are going to come out of the competition with connections to the organizations represented by the judges at the table."
After two days in Ohio, Drawbaugh's still in. He's already committed to judging next year's MCIC.
Share this Post: