Interventional Spine and Sports Medicine Physiatrist Malia Cali, MD, to Join The Steadman Clinic in Mid-September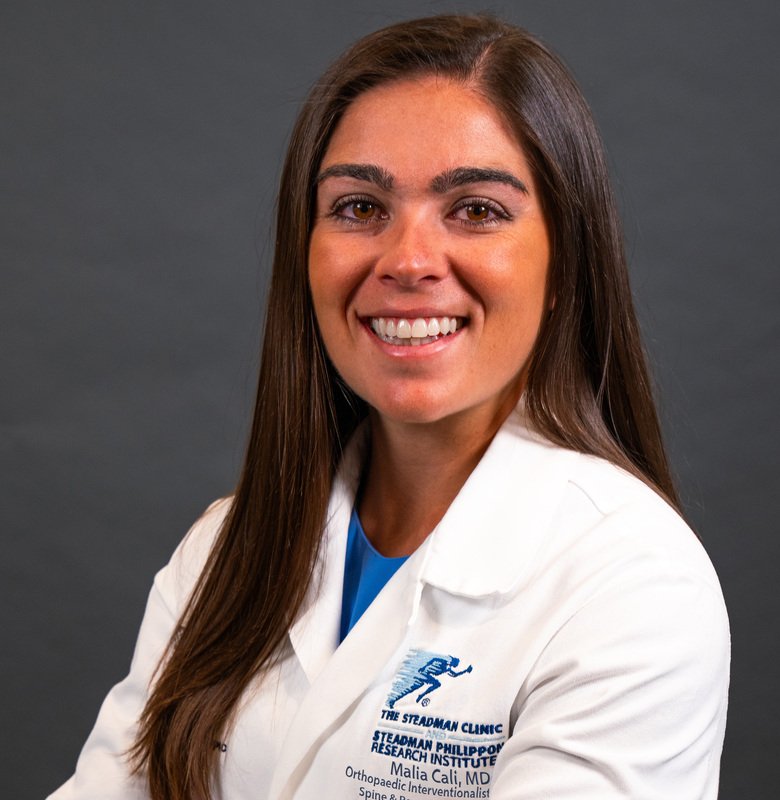 The physiatrist and sports medicine physician will be based at The Steadman Clinic's office in nearby Frisco
VAIL, Colo. – Malia Cali, MD, will join The Steadman Clinic's medical team in September. Dr. Cali, physiatrist who specializes in interventional spine and sports medicine will work from The Steadman Clinic's Frisco location. She officially joins the team on Sept. 18.
Dr. Cali comes to The Steadman Clinic after completing a sports medicine fellowship at the University of Washington in Seattle. Prior to her fellowship, Dr. Cali completed her residency in physical medicine and rehabilitation (physiatry) at The University of Colorado Medical Center in Aurora. A native of Hammond, Louisiana, she graduated from Louisiana State University Medical School in New Orleans after earning her bachelor's degree at the University of North Carolina in Chapel Hill, where she also competed on the Tar Heels' cross country and track teams.
"We welcome Dr. Cali to our staff and look forward to her daily presence in our Frisco clinic," said Dr. Marc J. Philippon, managing partner of The Steadman Clinic and chair of Steadman Philippon Research Institute (SPRI). "She is an extremely talented physician and provides our staff with another non-operative musculoskeletal and spine specialist. She joins our pain management team that includes Dr. Thos Evans in Vail and Edwards and Dr. Dustin Anderson in Aspen and Basalt and will be based full-time in our growing clinic in Frisco."
Dr. Cali is honored to have the opportunity to join The Steadman Clinic staff as she begins her career in the field of orthopaedic sports medicine.
"What really drew me to The Steadman Clinic is their expectation for excellence," noted Dr. Cali. "Their drive to continually improve the quality of care and their dedication to patient satisfaction are both very important to me. The entire staff stops at nothing to provide the level of care that I think we all expect. I feel extremely fortunate to have the opportunity to start my career at this clinic with such a world-renowned name. I hope that I can help carry on the tradition of excellence that they have certainly set on both a national and international stage."
Dr. Cali is looking forward to living and working in the Summit County communities in her new role with The Steadman Clinic in Frisco.
"I'm really excited to be able to be a part of the community there and help The Steadman Clinic expand its very important presence in that region," said Dr. Cali. "We are building a practice around that community and strive to be the provider that the local residents can come to for procedures and other orthopaedic needs that they have."
While working in sports medicine in a non-surgical role, Dr. Cali also brings experience in regenerative medicine and looks forward to collaborating with The Steadman Clinic's surgical team and the clinicians and researchers at SPRI in that area.
"I know the providers here at The Steadman Clinic are utilizing regenerative medicine and PRP (platelet-rich plasma) in their practices. Dr. Evans is certainly doing that at his clinic in Vail, so I am hopeful and excited to add that kind of service and expertise to our clinic in Frisco."
The hiring of Dr. Cali is another step in the expansion of The Steadman Clinic's services throughout the Colorado mountain regions. The Steadman Clinic now has offices and/or surgical centers in Aspen, Basalt, Edwards, Dillon and Frisco in addition to Vail.
For further information, contact Lynda Sampson, vice president of external affairs at The Steadman Clinic and SPRI (
lsampson@sprivail.org
).
Share this Post: