Nathan Cafferky, M.D., Total Joint Replacement Surgeon, to Join The Steadman Clinic and Steadman Philippon Research Institute in October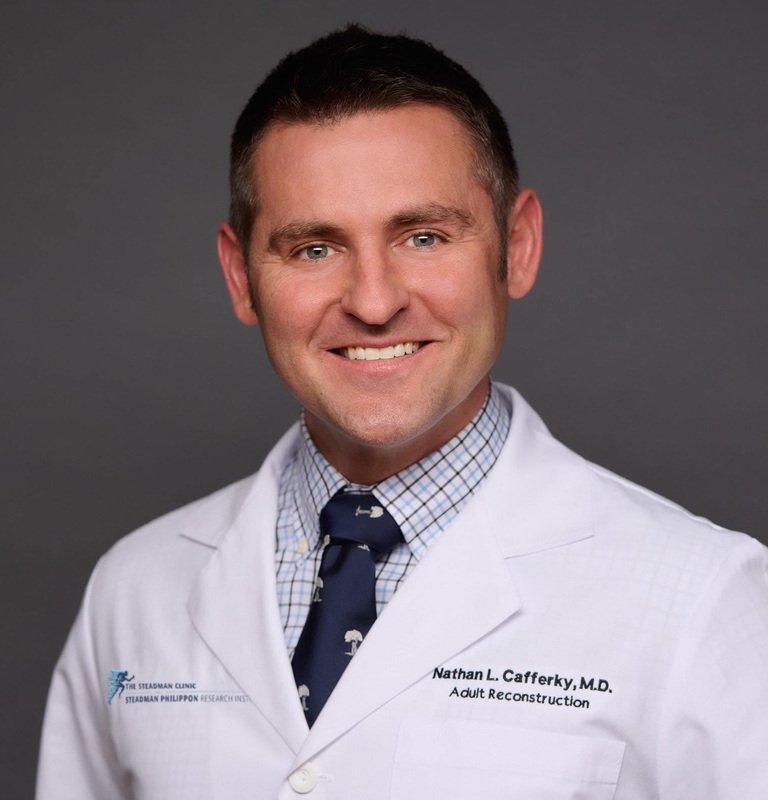 Drs. Cafferky and Kim are planning to start a total joint fellowship – "a great opportunity for us to further expand our total joint replacement services at The Steadman Clinic and help train new doctors in this growing field of orthopaedic surgery."
VAIL, Colo. – Nathan Cafferky, M.D., FAAOS (Fellow of the American Academy of Orthopaedic Surgeons), will join The Steadman Clinic's orthopaedic surgical team on Oct. 16, 2023. Dr. Cafferky joins The Steadman Clinic's Drs. Raymond Kim and Joel Matta in the specialty of adult joint reconstruction. He comes to The Steadman Clinic and Steadman Philippon Research Institute (SPRI) after practicing for eight years at Vail-Summit Orthopaedics and Neurosurgery (VSON).
"I'm excited to join the exceptional staff at The Steadman Clinic," said Dr. Cafferky. "It gives me the additional professional opportunities to teach and do research at SPRI."
The additional professional opportunities to which Dr. Cafferky refers include a new training program in SPRI's highly acclaimed clinical fellowships.
"Dr. Kim and I are planning to start a total joint fellowship," said Dr. Cafferky. "That is definitely an ongoing process and will take some time to be fully developed, but it will be a great opportunity for us to further expand our total joint replacement services at The Steadman Clinic and help train new doctors in this growing field of orthopaedic surgery."
Dr. Cafferky will bring additional expertise to a team of world-class surgeons and physicians.
"We welcome Dr. Cafferky's arrival to the team. He will provide his expertise and offer an excellent patient care experience to our joint replacement patients," said Marc J. Philippon, M.D., managing partner of The Steadman Clinic and chair of SPRI. "He has developed a strong reputation both here in Vail and throughout our field as an accomplished total joint replacement specialist. The vision that he and Dr. Kim have to add a new fellowship, training surgeons in the joint replacement specialty, is the type of forward-thinking and progressive growth that represents what The Steadman Clinic and SPRI are all about."
Dr. Cafferky is a board-certified, fellowship-trained total joint surgeon and performs a range of procedures, from straightforward total joint replacements to complex revisions. The use of robotics—which enhances precision, flexibility and control for the surgeon during a procedure—is a big part of Dr. Cafferky's surgical technique.
"I use advanced technology and robotics to help patients achieve the best possible outcomes," said Dr. Cafferky. "Robotic surgery is designed to assist the surgeon with scientific data that allows us to meet each individual patients' needs."
After eight years at VSON, Dr. Cafferky felt he was ready to take this additional step in his career.
"We are thrilled to welcome Dr. Cafferky, a long-time community member, to The Steadman Clinic and SPRI team," said Dan Drawbaugh, CEO of The Steadman Clinic and SPRI. "We are looking forward to the expansion of our total joint program, and enthusiastic about the additional fellowship opportunities for our surgeons interested in the important field of total joint surgery."
Prior to his time at VSON, Dr. Cafferky completed a fellowship at the University of Colorado Anschutz Medical Center in Denver. A graduate of Loma Linda (California) University School of Medicine, Dr. Cafferky served his residency at the Geisinger Orthopaedic Institute in Danville, Pennsylvania. He was born in southern California and raised in Portland, Oregon, in a family of physicians, including his father and grandfathers.
Dr. Cafferky and his wife have four children, ranging from four to 13 years old.
"As a family, we're into all the Vail-related things that you can do, from skiing to mountain biking, camping and other sports," said Dr. Cafferky. "It's been a great place to raise our family and we are so excited to continue our journey here in the Vail community."
For further information, contact Lynda Sampson, vice president of external affairs at The Steadman Clinic and SPRI (lsampson@sprivail.org).
Share this Post: