Steadman Clinic Surgeon Plays Major Role in Success of Annual Academy of Orthopaedic Surgeons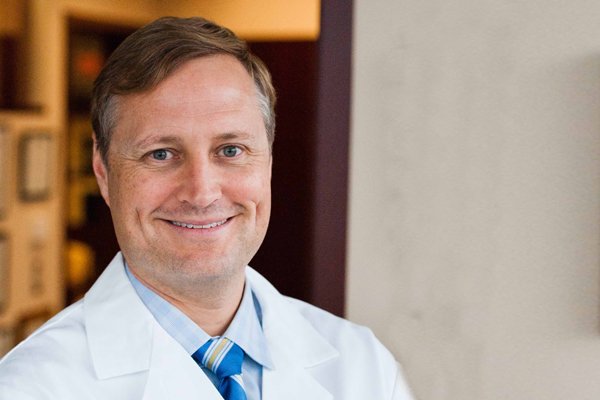 Dr. Matthew Provencher Explains Purpose of Meeting is Understanding How the Latest Education and Technology Can Help Improve Patient Outcomes
"The academy is our showcase," said Dr. Matthew Provencher. "It's the premier educational and technological innovation meeting of the year."
Dr. Provencher, renowned shoulder and knee surgeon at The Steadman Clinic, is referring to the Annual Academy of Orthopaedic Surgeons (AAOS). The five-day meeting was recently held at the Sands Expo Center in Las Vegas. In total, 30,000 people attended the 2019 AAOS meeting, including 12,400 orthopaedic surgeons and more than 700 exhibitors.
"I'm on the Annual Meeting Committee, which runs the entire AAOS meeting," said Dr. Provencher. "I've been the Exhibits Chair for two years and it's exciting because we are innovating and working with digital content to help surgeons navigate the meeting for their maximal benefit.
"AAOS is very important for orthopaedic surgeons to see the latest technology and to help our patients get better more efficiently with the best possible outcomes. It's a combination of education and products with innovation all in one place."
Dr. Provencher is also principal investigator at Steadman Philippon Research Institute (SPRI) and the Chair of the Vail Health Institutional Review Board (IRB). An IRB is required to do any type of clinical research like the research conducted at Steadman Philippon Research Institute (SPRI).
"The ability to walk 50 feet down the hallway and have our SPRI research team available is priceless," said Dr. Provencher. "It allows an exchange of intellectual ideas that would not normally happen. It's crucial we have this link to research that is immediately translatable to our patients at The Steadman Clinic.
"At AAOS this year I had numerous presentations and participated in several discussion panels. It's a great honor to be on a panel. It's what we're all about at The Steadman Clinic and SPRI. It's the ability to research and publish in our field. Our research is second to none."
Dr. Provencher attended the Naval Academy and served more than 16 years on active duty in the military. His goal was to be a jet pilot, but his vision was just below the acceptable level. He never intended to go into medicine.
"My mentor was my chemistry professor, Dean John Kelly, who was also my dad's chemistry professor," said Dr. Provencher. "He dragged me into his office and said I needed to go into medicine. It was the perfect storm with my eyes not passing the physical to be a pilot and Dean Kelly suggesting medicine. I was an electrical engineer but eventually went to Dartmouth Medical School and found orthopaedics. I had no idea how valuable engineering would be down the road when I entered the field of orthopaedics. It is all engineering. I feel very blessed because of the sequence of events that led me to medicine."
Dr. Provencher says his decision to come to The Steadman Clinic was the lure of Dr. Richard Steadman, a legend in orthopaedic sports medicine and the founder of The Steadman Clinic.
"Dr. Steadman set up one of the first outcomes databases in all of sports medicine," said
Dr. Provencher. "The Steadman Clinic along with SPRI is a place of dedication to patient care and that's what I wanted to be a part of.
"One of the most exciting things I've seen is the ability for SPRI to grow in a really positive direction that impacts patient care, from what we do in the lab to clinical care and the review of clinical outcomes.
"We have a study underway for the military at SPRI that I'm really passionate about. We're working with the Department of Defense on a mobile platform for optimizing military member rehabilitation. We have devised a system and test in a real-world environment at SPRI. That system determines when you're ready to 'return to play.' You can't do that in other places," said Dr. Provencher.
"By the way," he added "my brother ended up being the jet pilot in the family."
Share this Post: