The Steadman Clinic Celebrates 3rd Annual "Life After Total Joint Replacement Ski Day"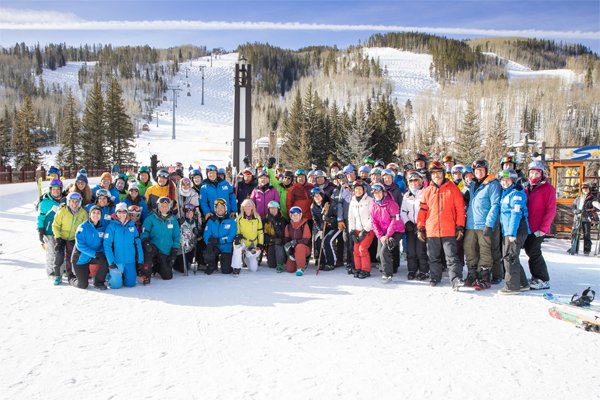 Former patients join Dr. Raymond Kim, Dr. Matthew Provencher, Dr. Tommy Haytmanek and retired surgeon Dr. Thomas Clanton from The Steadman Clinic on the slopes to commemorate their return to sporting activity following life-changing total joint replacement surgeries
VAIL, Colo., (March 14, 2022) – The Steadman Clinic's Drs. Raymond Kim, Matthew Provencher, Tommy Haytmanek and retired surgeon Dr. Tom Clanton spent March 18 skiing, smiling and celebrating with former patients on the picturesque slopes of Vail. The occasion was the third annual "Life After Total Joint Replacement Ski Day," an event that everyone at The Steadman Clinic and Steadman Philippon Research Institute (SPRI) circles on their calendars as a favorite day.
The outing gives The Steadman Clinic and its world-class orthopaedic surgeons, clinicians and teams the opportunity to join their patients in celebrating their return to physically active lifestyles after undergoing life-changing surgeries and treatment.
The event marked the third of its kind in Vail, but it follows a tradition that Dr. Kim started a decade ago while practicing in Denver.
"We started doing this on every Martin Luther King Day weekend for almost 10 years while I was living and working in Denver," said Dr. Kim, a knee and hip surgeon who specializes in adult joint reconstruction at The Steadman Clinic. "It has easily become one of my favorite days of the year. I wish we could do it every week."
Dr. Provencher said, "It's our third year hosting this event in Vail, and it's really a celebration of exactly what we love to do at The Steadman Clinic, getting our patients back to doing what they love to do. People are coming together to celebrate their hard work in therapy, share their positive experiences and have fun. It is magical to see."
On the slopes, the patients enjoy showing off the results of their joint replacement and recovery, which includes not only the skilled work of their surgeons, but also the patients' commitment to returning to an active lifestyle through physical therapy and lifestyle choices after their surgeries.
"Seeing our patients in action out here on the slopes, doing what they love to do and simply having the time of their lives is truly rewarding for all of us at The Steadman Clinic," said Dr. Kim. "This day is really carrying over what Dr. Steadman brought to Vail many years ago—getting people back to their normal, active lifestyles. And it's not just the competitive and elite Olympic skiers and professional athletes. It's also the weekend warriors back out there doing what they enjoy."
Patients traveled from all parts of Colorado to share this special day with their Steadman medical teams, showing off their returned skills on the slopes.
"When I saw these incredible patients of ours, there were times today when I couldn't even tell which ones of them actually had replacements done," said Dr. Provencher, a sports medicine surgeon who specializes in complex shoulder and knee surgery at The Steadman Clinic. "Their physical ability and—just as importantly—their joyful attitudes on the slopes are amazing, especially when you consider their journeys to get back to this activity. I think a lot of it has to do with their DNA, their grit and their resilience."
The returning patients all have their own inspiring stories to tell.
Chris Anthony of Edwards credits both Dr. Kim and Dr. Peter Millett, a shoulder, knee and elbow specialist at The Steadman Clinic, with finally convincing him to undergo surgery. His body was damaged after nearly 30 years of competitive and professional skiing. Anthony also performed in many films and spent hours in front of the cameras skiing the legendary slopes of Colorado.
"I skied for a lot of films and naturally suffered a lot of injuries and put my body through a lot," said Anthony. "I was hesitant to give up doing the scenes to have surgery, as that was my livelihood, so I skied through a lot of serious injuries."
Anthony finally listened to Dr. Kim and Dr. Millett. "They both told me that there was no more 'Band-Aiding' that they could do."
In April 2020, Anthony finally had the surgery.
"It was a very interesting time in the world," said Anthony, "but it was the perfect time for me to re-focus my life and get my body healthy again. The long rehab period literally gave me a new lease on life, both physically and personally."
Jon Hall of Steamboat Springs, a patient of both Dr. Kim and Dr. Provencher, returned for the "Ski Day" after having a hip replaced in July 2019 and a total knee replacement in May 2020.
"Today is a wonderful time to share an experience," said Hall. "It's great to get together with others who have gone through the same journey, who understand the issues that we all have pushed through to get to the other side and again be living the dream on these slopes.
"It's especially great to be with the surgical teams in a totally non-clinical environment and to get a chance to express my thanks to them all," continued Hall. "I can't say enough about the skill and the caring treatment from everyone on those surgical teams."
CONTACTS:
The Steadman Clinic and Steadman Philippon Research Institute
Lynda Sampson, Vice President of External Affairs
lsampson@sprivail.org
970-479-1563
Share this Post: