The Steadman Clinic Congratulates Dr. Matthew Provencher, Awardee of the Dr. Steven Gitelis Inspiration Award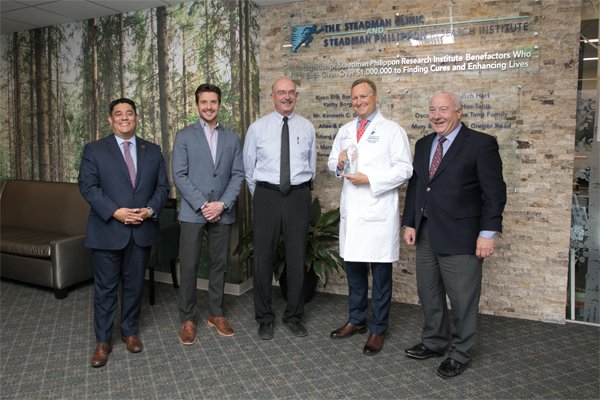 It was a beautiful day in Vail Valley to celebrate Dr. Matthew Provencher's latest achievement on May 3, as AlloSource, an organization dedicated to advancing the science and use of transplantable allogeneic cells and tissues, awarded Dr. Provencher with the Dr. Steven Gitelis Inspiration Award at The Steadman Clinic. Dr. Provencher, a world-renowned shoulder, knee and sports medicine surgeon, who was recently named one of the Top 28 Shoulder and Knee Surgeons in the United States by Orthopedics Today, was particularly touched by this specific honor.
"It is very humbling to be recognized by an organization that I admire so greatly. From one donor, we are able to help more than 100 different patients with donated musculoskeletal tissue," he said. "Most people don't even realize the importance of becoming a tissue donor. It truly transforms lives." In 2005, while at the Naval Medical Center in San Diego, Dr. Provencher quickly realized the inherent value of this service and was able to perform unique work with wounded soldiers with challenging injuries, including reconstructing missing limbs through donor tissue provided by AlloSource.
"We have been in business for 25 years honoring donors and helping patients heal. Each donation is a precious and valuable gift," said Thomas Cycyota, CEO and president of AlloSource. "Dr. Provencher has been, and continues to be, deeply committed to advancing patient outcomes in the field of orthopedics. We look forward to a continued partnership for years to come."
Dr. Provencher sees the future of tissue donation becoming more customizable as medical 3D printing becomes more readily available. "When you step back and recognize what a privilege it is to help improve lives through this gift, the experience of tissue donation is an emotional one," added Dr. Provencher. The award is named after Dr. Steven Gitelis, a highly regarded orthopedic surgeon and one of the founders of AlloSource.
Share this Post: