Dr. Marc Philippon's Dream of Practicing Medicine Started Early - A Trip to Watch His Dad Perform Knee Surgery Ignited the Spark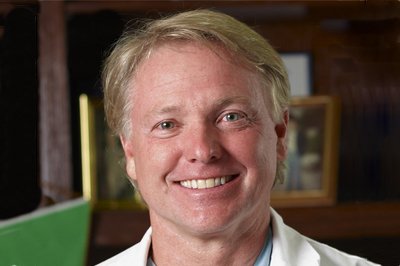 A lot of kids want to be doctors when they grow up, but not many kids are observing surgery at age six like Marc Philippon did. The Managing Partner of The Steadman Clinic and Co-Chairman of the Steadman Philippon Research Institute (SPRI) got an early start pursuing his dream while growing up in Canada.
"I grew up in a medical family," recalled Philippon. "When I was six years old, my dad picked me up from school, took me to work at the hospital and I watched him perform a knee surgery on a young man. I asked some questions and he showed me what he did, and that spurred my interest in someday being a doctor.
"I thought that it was inspiring that his job was to help people and that is what I wanted to do," continued Philippon. "It looked like a great job. It was exciting that he got to work with his hands and that truly sparked my interest."
From that unofficial "take your child to work day" adventure with his Dad, Philippon has made the most of the opportunity and his medical career. He pioneered arthroscopic hip surgery and has been recognized by his peers in U.S. News and World Report as being among the top 1% in the nation in his specialty of hip surgery.
Recently Philippon joined Dr. Bill Moreau, Vice President of the sports medicine division of the United States Olympic Committee, in leading the 2nd Annual Injury Prevention Symposium, held at the Four Seasons Resort in Vail, Colorado.
Philippon initially came to the United States as a student-athlete playing soccer and tennis at the NCAA level on an athletic scholarship. He earned his medical degree with an academic scholarship from McMaster University Medical School in Hamilton, Ontario, Canada in 1990, and completed his Orthopaedic Surgery residency at the University of Miami, Jackson Memorial Hospital in 1995.
Philippon joined The Steadman Clinic in 2005 from the University of Pittsburgh Medical Center, where he served as Director of Sports Medicine/Hip Disorders. He is internationally known for performing joint preservation techniques by utilizing arthroscopic hip surgery to treat painful joint injury in high-level athletes who require powerful hip rotation. He has successfully treated close to 1,000 professional and Olympic athletes with many of them returning to high performance – winning Olympic medals, setting NFL, NHL and MLB records, and winning PGA tournaments post-surgery.
"I've always liked sports and played a lot of sports growing up," said Philippon. "My Dad was our team physician for my hockey team. We all had injuries playing sports, myself included, and I always liked interacting with the doctors that were treating me, so my interest in becoming a sports doctor started pretty early in my life."
What is next for The Steadman Clinic's Managing Partner?
"I'm never totally satisfied with what we are doing and am always looking for new ways to improve, such as shortening the time for recovery, less bleeding and less pain for the patient," said Philippon. "With medicine being an art and a science, there is always room for improvement. I treat a lot of patients and I am always very critical of what I do. I always want to do things better. Perfection is never possible but I think it is important to try to strive for that as much as you can."
And the track record for Dr. Philippon – and all the other surgeons and scientists at SPRI and The Steadman Clinic – surely indicates that striving for that "never possible" goal of perfection will continue without much hesitation.
Just like the pursuit of the goal that was set by a six-year-old in Canada whose Dad once took him to his place of work.
Share this Post: