Steadman Keeps Rodeo Cowboy Dillon Kujala in the Arena
Aug 3, 2017
Kathy Wyatt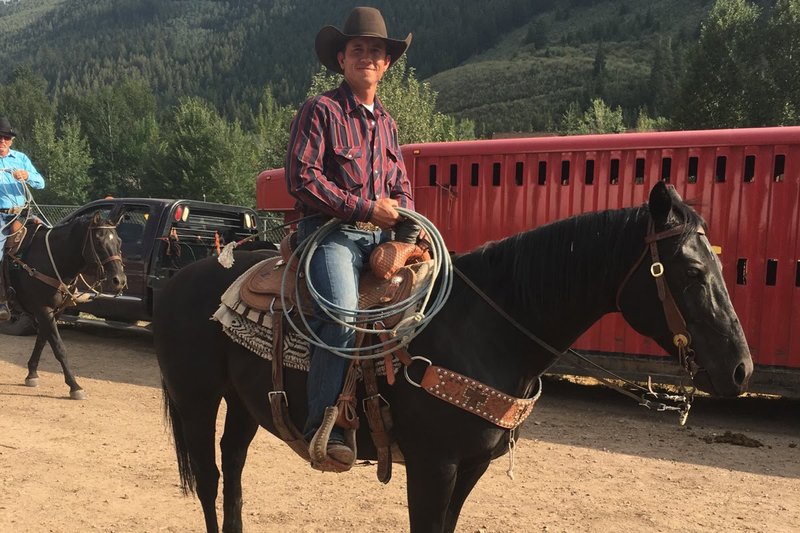 When you hear there's a rodeo in town, what comes to mind? Is it rodeo cowboys on bucking broncos, a little cattle roping, some barrel racing maybe? Don't forget to add the occasional, or sometimes frequent injury.
Dillon Kujala has lived the rodeo life since high school. He went to Laramie County Community College in Cheyenne, Wyoming on a full rodeo scholarship. He traveled the circuit for years. Bull riding was in his bones. Or at least affecting his bones. And apparently his ligaments.
In 2001, during a bull riding event in college, Dillon tore his ACL. Major knee surgery, pain and physical therapy followed.
Dillon met his wife Samantha at school. They eventually moved to her family ranch in Burns, Colorado. Perfect for a rodeo cowboy. He continued riding, roping, and injuring. Dillon said, "Bull riding is addicting, rodeo guys are bred different."
Four years after the first knee surgery, he hurt it again. "As I was coming off the bull, the spur on my boot caught on the bulls back. One heel stuck and ripped the bottom of the leg sideways and twisted the knee," said Dillon.
He tore his
ACL
, PCL, and MCL. He needed another knee repair.
Living in the Vail area, Dillon had heard many positive things about the doctors at The Steadman Clinic. In fact, Samantha had knee trouble in high school and was a patient of the now retired
Dr. Richard Steadman, founder of The Steadman Clinic
. Dillon said, "I asked my wife, how are your knees? And she said her knees are in good shape."
The decision was made.
Dr. Peter Millett
, a sports medicine specialist, and partner at The Steadman Clinic was Dillon's choice.
"He didn't use any cadaver parts. They drew blood, ran it downstairs (to the lab), put the blood in a machine and then put the blood back in my knee to help rebuild it, an inside healing response," described Dillon. "My blood healed my knee."
The Steadman Clinic explains it as Platelet-rich plasma (PRP) and Bone Marrow cell concentrate (BMCC) therapy. The patient's own blood stimulates a natural healing response. In very simple terms, the blood is drawn from the patient and placed in a special processing unit, which separates platelets, white blood cells, and serum from red blood cells. The platelets and white blood cells (including stem cells) are then concentrated and injected into the damaged tissue.
"Dr. Millett said, you're good and strong but wear a titanium knee brace when you compete. I didn't always wear it," said Dillon laughing. "The knee felt good."
Eight years later, Dillon was a patient at The Steadman Clinic once again. A bull stepped on the outside of his ankle shattering the bones. He wasn't really surprised he was hurt again. "If you're a bull rider, it's not if you're going to get hurt. It's when you're going to get hurt."
Dr. Thomas Clanton
of The Steadman Clinic treated Dillon. Dr. Clanton specializes in foot and ankle injuries. He performed a successful surgery, allowing Dillon to get back on a bull.
"Dr. Clanton fixed my ankle. A friend of mine broke his ankle. I told him to go there and he didn't. You can lead a horse to water but you can't make him drink," said Dillon. "I told him to go there and he didn't and he's still having trouble."
When Dillon isn't working the rodeo, he's on the ranch, riding horses six to eight hours a day. He and his wife also have an outfitting company, guiding hunters in their quest for mountain lions. He follows the cats' movements, climbing and hiking, sometimes trudging through knee and waist-deep snow. He also shoes horses on the side. All different jobs, but all very tough on the body. He admits his hips ached, and had for a long time.
Two years ago, Dillon decided it was finally time to get his hips repaired. Where? The Steadman Clinic. "I'm going nowhere else, I'm sticking with these guys, it made sense, it was a good choice," Dillon said.
Dr. Marc Philippon
, managing partner of the Steadman Clinic and Co-chair of the
Steadman Philippon Research Institute
performed the surgeries. Dillon said, "all the cartilage was gone. Bone was touching bone. I just kept riding with the pain. With all the bone chips and spurs, Dr. Philippon couldn't believe I was still doing all this stuff.
"People were like, don't do the surgery, it'll get worse. Afterwards I felt like 21 years old again. I should have had the surgeries years ago. Last summer the bull riding was great. The hips were amazing."
Right now, he's taking a break from bull riding. He feels great and is injury free, but with all the traveling and time away from his family, he decided to stick to steer roping. For now.
"I've been going to ropings and doing that this summer, but roping is like cowboy golf," Dillon said with a bit of sarcasm. "You can get hurt, but you'll be okay.
"But I do have the itch to get on the bulls again. I'm gonna have to scratch that itch sometime soon." Just in case, the team at Steadman will be ready.
Share this Post: