Winter Olympic Games Provide Steadman Clinic Physicians a Memorable Experience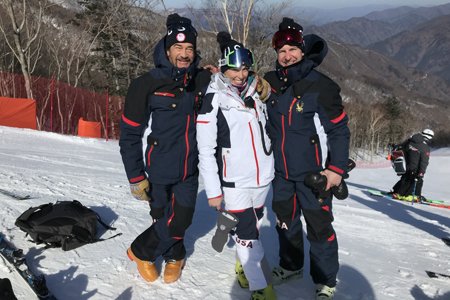 Dr. Tom Hackett and Dr. Randy Viola worked closely with U.S. Ski and Snowboard teams in South Korea
VAIL, Colo. – The Steadman Clinic was well represented at the recent PyeongChang 2018 Winter Olympic Games in South Korea.
Not only did some
former patients
of The Steadman Clinic compete for medals at the Games, but two of Steadman's top orthopaedic surgeons also served as team doctors for the U.S. Ski and Snowboard teams.
Dr. Tom Hackett
and
Dr. Randy Viola
joined the U.S. delegation in PyeongChang, South Korea in February and both returned home following the Games with lasting memories.
Dr. Hackett worked his third Olympic Games, while Dr. Viola experienced his first Olympics.
"I was very impressed with the job that the Koreans did in preparation for their first Winter Games," said Hackett. "Everything was well organized and the competition was outstanding. From a medical preparedness standpoint, they had everything in place and were very friendly to outside physicians.
"It helped me that I had been (to South Korea) a couple of times previously so I had forged some relationships with the Korean doctors and was familiar with the medical facilities near the venues," added Hackett. "That groundwork was critical."
"The venues were scattered about," said Viola, who was working with the U.S. Alpine team. "I was in a very remote little village. The ski team administrators wanted to keep the athletes in a more protected environment. It was isolated but at the same time it was really unique. It was just me, some coaches and some athletes at our housing location. You didn't have the distractions of the Olympic Village to cope with and that is what the coaches wanted for the athletes."
Hackett was impressed with his hosts in South Korea.
"The friendly interactions we had with the Korean people really stands out in my mind," recalled Hackett. "Our hosts were warm and welcoming and one of the gentlemen prepared a special local meal for us during our stay that I will never forget. They helped make the adventure a truly memorable one."
Viola noted one of the big differences between an Olympic Games ski competition and a World Championships event.
"These are all new venues at the Olympics," said Viola, who has worked numerous World Championships with U.S. Ski teams in recent years. "Many of the places you go for the World Championships are established and long-time world-class venues, like St. Moritz. I don't know how long St. Moritz has been hosting ski races but it has to be close to 100 years.
"The classic winter venues have hosted top events for decades but for the Korean Winter Olympics it was all very new," continued Viola. "Everything was brand new, not only to the athletes and coaches but also to the doctors and medical support staff. Everything was built from the ground up. In one sense it was very new and shiny and state-of- the-art. But in the other sense, it was all very different because things would come up that you could not anticipate. But they really did a terrific job in preparing the venues and responding to needs that would arise."
Best memory of these Olympic Games for the two Steadman doctors?
"Without a doubt it was seeing
Shaun White win a Gold Medal
, again," said Hackett. "After everything he has been through with the injuries and rehabilitation, it was truly an extraordinary moment to be there and witness that. I've worked with Shaun for many years and was so happy to see him win again."
"The Opening Ceremony is something that I will never forget," said Viola. "Dr. Hackett and others had told me how memorable it would be and they were exactly right. To be there with all the elite athletes from around the world and to catch up with people in the field that I haven't seen in a long time … those are things that make an event really special. It was a tremendous honor to be part of the Opening Ceremony and I am grateful to the athletes for the kind invitation."
The trip was memorable but both Hackett and Viola are happy to be back in Vail and actually see one another.
"I never saw Dr. Viola in my nearly three weeks at the Games," said Hackett. "That tells you how spread out and distant some of the venues were. We were both working ski events at the same Olympics yet did not see each other a single time. We had to come home to compare notes and share a few stories," said Hackett.
And, based on their experiences, they won't be lacking for stories. They'll have at least enough to tell until the Winter Olympics return again in
2022 in Beijing, China
. And both Hackett and Viola look forward to the possibility of joining the American delegation again in four years.
Share this Post: